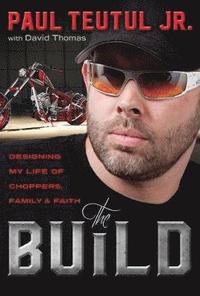 Even though I can't say I was a regular viewer of the TV reality show, "American Choppers", the relationship between the two Pauls was known to me. Like so many others, I wondered how much of it was real?
"The Build" by Paul Teutul, Jr. answers those questions and gives Junior's respectful version of the story that probably gets overlooked because of his father's explosive and opinionated demeanor. While the book does give a little character background, it deals mostly with their lives during the filming of "American Chopper" to date. Junior shares what his life was like during that time, the conflicts and triumphs, in a down-to-earth way that makes this book an easy and quick read.
Like so many familial relationships, this one suffers from an obvious dysfunction, yet Junior sees it as an opportunity to witness God's healing and to break the generational curse his family has suffered from. This book is not a Paul-Sr.-in-your-face type of witness, instead it is Junior's account of the change God brought to his life, and the influence that has had on the choices he makes.
I enjoyed reading this book and would recommend it. I received a complimentary copy for my unbiased opinion.